Nearly two years ago, i took a deep breath, and bought a typematrix keyboard, with a bépo layout. I had had the intent of learning bépo for some time before — after years of ignoring other people telling me how good it was, considering it was not a worthy investment of time — but i hadn't seriously acted on it yet, i guessed that getting this keyboard would help for two reasons. The first one being that investing money was one way on cornering myself into investing the appropriate time too, and the second one, that it was a nice keyboard, with the bépo markings on it, so having a paper around wouldn't be needed.
Before detailing my learning of bépo and my enjoyment of this keyboard, it's important to state what was my keyboard proficiency (or lack thereof) with the layout that most French people use, azerty.
Basically, i was touch typing, not very fast (i think it was around 30-40 wpm), not in a way that even remotely resemble "proper" touch typing, using less than half of the available fingers, but i was cool with that. However, i felt there was a few things that weren't really possible to improve with the usage of this layout, some key combos, to do _ or | or other symbols basically required me to twist my hands in uncomfortable ways, and i felt it would payback badly at some point. Another issue i had, was a difficulty to hit right on keys, it wasn't uncommon for me to type too much on the border of a key and to touch the one aside at the same time, the lack of alignment of the keys, that most keyboards suffer from, was a likely cause of this.
As you can assume, switching to a new keyboard layout, when you are typing without ever looking at the keyboard (i was even using a "blank" international keyboard, which means nothing was written on the keys, looking at them was of no use), is a pretty difficult experience, it's recommended to do so when you have at least one or two weeks where you can afford a lower productivity in front of you, but i didn't chose this kind of time to do so, i had code to deliver, and it couldn't wait. So it was painful, but i didn't look back, and it slowly got to an acceptable pace, with less typos, less looking around for the right key, and so on.
To learn, i started by doing the basic training in klavaro, practicing to this level surely helped in getting the fingers position right once and for all. I didn't push these exercises to the end, i found the way klavaro handle errors to be wrong, i want to correct spellings error, not consider them a loss and go on, but maybe that's just me, so after i got the basics, i switched to training with online or offline tools like typeracer, bepo.fr's dactylotest, and others. And slowly watched my score raise. Of course, i wasn't training all the time, i just do some series of training from time to time, focusing on precision to increase the efficiency of typing.
What i like in bépo is that it's been made to minimize the traveling distance of the fingers while typing, in fact, you can type thousands of (French, but also English) words, without leaving the home row. It also balances the work of the hands and of the fingers efficiently by putting all vowels on the left hand, while the other letters are mostly on the right one, and most used keys are put on the strongest fingers and on the easiest accessible positions.
Typematrix complement that by putting the very used keys enter and backspace at the center of the keyboard, so you can use them with both your indexes, instead of your weakest finger.
So today i recorded a video of my fingers while i was typing a training text, just to actually observe them typing in a real situation, and i think the result is very interesting, my fingers are really doing the minimum of movements needed, and i type a lot faster (i wasn't particularly fast in this test), with a lot less errors than before, and i'm still getting better and better, considering the time i spend typing, and that i'll spend typing in the years to come, i'm pretty sure the benefit is really worth the time and energy investment.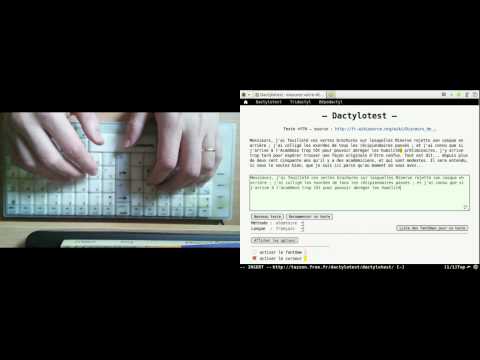 Oh, and i bought a second keyboard for work, of course.